How ChatGPT compares to Bing AI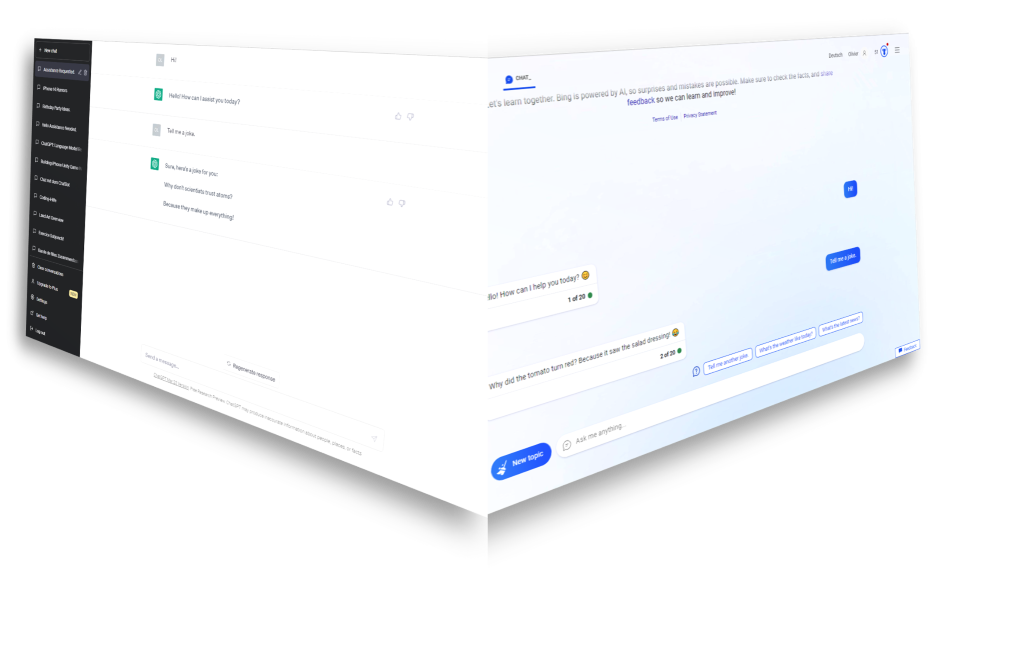 In another article (found here), I talked about ChatGPT and Bing AI, and in this article, I am going to compare the two and talk about the small, but annoying problems that Bing AI has right now.
So with the intro out of the way, let's get into the comparison.
First, questions about something that is fairly recent. I asked both AIs to generate an informative blog article about the iPhone 14, then make it more understandable and finally, I asked for the release date of the phone.
The iPhone 14 is one of the most anticipated releases in the tech industry, with Apple fans eagerly waiting for the next iteration of the popular smartphone. While it's still too early for Apple to officially announce any details about the iPhone 14, there have been plenty of rumors and leaks about what the device might offer. Here's what we know so far:

[…]

Release Date
While it's still too early for Apple to officially announce a release date for the iPhone 14, the device is expected to launch in the fall of 2023. As with previous iPhone releases, there will likely be multiple models with different storage capacities and price points.

In conclusion, while there is still much we don't know about the iPhone 14, there are plenty of rumors and leaks that suggest it will be a significant upgrade over its predecessor. From the redesigned body to the potential for improved battery life and camera technology, Apple fans have plenty to be excited about. As always, we'll have to wait for the official announcement to confirm these details, but for now, the iPhone 14 is shaping up to be a game-changer in the world of smartphones.

ChatGPT
The iPhone 14 was released on September 16th, 2022. It features a 6.1-inch (155 mm) display with Super Retina XDR OLED technology at a resolution of 2532 × 1170 pixels and a pixel density of about 460 PPI with a refresh rate of 60 Hz. The iPhone 14 display has rounded corners that follow a beautiful curved design, and these corners are within a standard rectangle. When measured as a standard rectangular shape, the screen is 6.06 inches diagonally.

The phone runs on iOS 16, up to iOS 16.4.1. It weighs 172g and has a thickness of 7.8mm. The phone comes with storage options of 128GB/256GB/512GB, but it does not have a card slot.

Bing AI
As you can see, ChatGPT does generate a longer text, but it only features rumors. That is because of the fact that ChatGPT does not really know anything that happened past September 2021. What is also interesting is that ChatGPT says the phone will release this year, even though it released in 2022. Bing AI does generate a correct text, even with sources listed at the bottom, but it is considerably shorter and I don't think it could be its own blog article.
The iPhone 14 is the new version of Apple's popular smartphone. Even though Apple hasn't officially announced anything about the device yet, there have been rumors and leaks about what it might offer.

Here are some of the expected changes:

Design: The iPhone 14 might have a new look with a hole-punch camera and flat sides, which could make it easier to hold.
Display: The screen might be smoother and use less battery with a technology called LTPO. It could also be more scratch-resistant with a new coating.
Camera: The camera might have more megapixels and better zoom capabilities.
Processor: The phone's brain might be faster and more energy-efficient.
Battery life: The phone might have a bigger battery and use less energy, so it can last longer.
5G Connectivity: The phone might work faster with new 5G networks and Wi-Fi.

The iPhone 14 is expected to come out in the fall of 2023, and there might be different versions at different prices. Overall, it looks like it will be a big upgrade from the iPhone 13.

ChatGPT
The iPhone 14 is a smartphone that was released on September 16th, 2022. It has a big screen that is 6.1 inches long and has a very clear picture. The phone is not too heavy and it is not too thick. It runs on a software called iOS 16 which is the latest version of the iPhone software. You can store lots of pictures and videos on the phone because it comes with different storage options. However, you cannot put a memory card in the phone.

Bing AI
Now when it comes to summarizing and putting the content aside, it is about the same. I think ChatGPT's text contains more information while still being about as understandable as Bing's text, however Bing's text sounds way more fluid, because ChatGPT uses lists so much.
I apologize for the confusion, but the iPhone 14 has not been released yet. As of my knowledge cutoff in September 2021, the iPhone 14 was still in the rumor phase, and no official release date has been announced by Apple. It's important to note that release dates and features are subject to change, and Apple typically makes official announcements closer to the release date.

ChatGPT
The iPhone 14 was made available on September 16th, 2022. Pre-orders for the iPhone 14 began on September 9th, 2022.

Bing AI
And lastly, the release date. Pretty expected results, with ChatGPT saying that it doesn't know it, and Bing AI getting it right. What is quite interesting, Bing AI did not even search for the release date, it took it from the first text it wrote.
Another thing you might have noticed as well is that ChatGPT has a more structured writing style with more paragraphs.
Next up is a question that I've taken right from the ChatGPT homepage: Creative ideas for a 10-year old's birthday.
Absolutely! Here are a few creative ideas for a 10-year-old's birthday:

[…]

Remember, the most important thing is to make sure the birthday child has a fun and memorable day with their friends and family.

ChatGPT
Sure, I can help you with some creative ideas for a 10 year old's birthday. Here are some suggestions based on web searches:

[…]

I hope these ideas help you plan a memorable birthday party for your 10 year old. 😊

Bing AI
I left the actual ideas out because they are pretty much the same. On Bing, I switched to the "Creative" conversation style. Now it doesn't make big difference here, but you can definitely see the change of tone compared to the other requests we've seen before, and you can see it even more when you continue the conversation or when you talk about other topics.
Here is a short comparison between the 3 writing styles:



Here is something new that is limited to Creative mode only: Image generation.
When you are in Creative mode, you can start typing with "Generate me an image …" or "Create an image …" and add important info. You can also add some other info as well, for example:
Generate me an image of bananas in a swimming pool with monkeys
or, you can just type the first part of the sentence, and then add the other info. You are also getting suggestions for what you could add or change, like in the text conversation mode.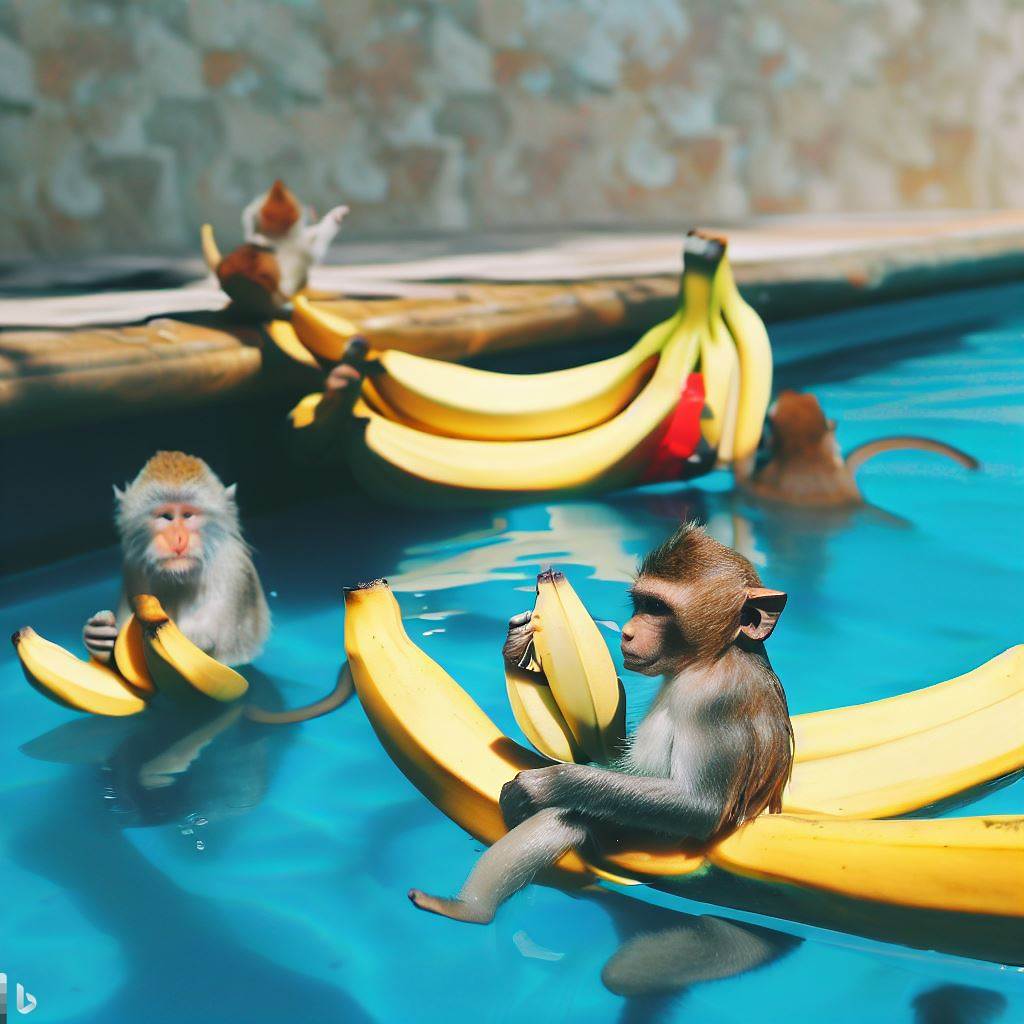 Bing AI generates 4 images, that you can download and use. There is a Bing watermark though, but it is easily removable by just cropping the image.
So right now you might think "Great! I'll start using Bing AI right away!" However, there are some things that still don't really work:
For example, summarizing a website or article with the sidebar does not work.
And if you replace "website" with "article", it will just tell you that there is no article there.
Sometimes, Bing just stops generating for some reason. I asked it to write a long blog article about the iPhone 14, and it just stopped in the middle of the text.
Sometimes, it searches in the internet for things you don't really need the internet for, and then the response just ends up being worse than ChatGPT, especially when generating a text.
And the last problem is that, of course, you need Microsoft Edge.
As far as I know, you can access it now on other browsers using an extension, but you still need a Microsoft Account.
Even though there are sone flaws, I still enjoyed using Bing AI, and I think it is worth it to use it over ChatGPT because of it getting access to the Internet, and the tools it unlocks with that.
So stay safe on the internet, and don't use AI for your homework!
Author: ol.se